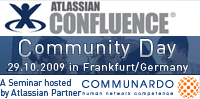 Am Donnerstag hat Communardo zum Confluence Community Day nach Frankfurt eingeladen und für mich war das der erste Vortrag als geladener Referent.
Wir haben die Einführung von Confluence bei GFi geschildert und haben unter allen Anwendern wohl das kleinste Wiki vertreten. Unsere Erfahrungen passten recht gut in die Statistik von Fallstudien, die Joachim Niemeier vorgestelllt hat. Weitere Auswertungen folgen auf dem Blog von Milos Vujnovic.
Interssant war mal wieder, dass Unternehmen unterschiedlicher Größe mit den gleichen Problemen kämpfen und wir – mit den im Vergleich zu T-Systems oder Sun wenigen Ressourcen – doch eine leistungsfähige Lösung geschaffen haben. Das häufig angeführte Pattern "Seed it with content" findet meiner Meinung nach in dem Weg über Einzelkämpfer wieder, entsprechend ist etwas mehr Geduld angebracht.
Die Folien zu den Vorträgen werden auf Slideshare gesammelt, die Live-Berichterstattung lässt sich im Enterprise2Open Blog nachlesen.
Zwischen all den Diskussionen ist mir besonders aufgefallen, wie positiv das Feedback der Anwender des Approval Workflow Plugins ist.Während bei vielen anderen Plugins das Markup als hinderlich für den weniger versierten Anwender empfunden wird, ist das in dem Fall eleganter gelöst.
Die Mischung aus Anwendern und Entwicklern sorgte immer wieder für interessante Gespräche in den Pausen und ich darf jetzt auch eines der "Stop. Collaborate and Listen" T-Shirts mein eigen nennen.