Dokuwiki hat das Upgrade auf Snow Leopard nicht ohne Fehler mitgemacht. Der Apache hat die Einstellungen zu php und mod_rewrite übernommen, dafür sorgt die automatische Wahl der Zeitzone für Verwirrung bei php.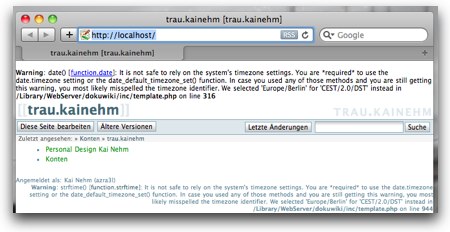 Die Fehlermeldung im Klartext:

Warning: date() [function.date]: It is not safe to rely on the system's timezone settings. You are *required* to use the date.timezone setting or the date_default_timezone_set() function. In case you used any of those methods and you are still getting this warning,
you most likely misspelled the timezone identifier. We selected 'Europe/Berlin' for 'CEST/2.0/DST' instead in/Library/WebServer/dokuwiki/inc/template.php

Als Abhilfe kann eine fixe Zeitzone definiert werden. Ein zusätzlicher Eintrag
date_default_timezone_set("Europe/Berlin");
in der conf/local.php setzt eine für php gültige Zeitzone.