Disney hat Google Earth als neues Werbemedium entdeckt. Für den neuen Film "Pirates of the Caribbean: Dead Man's Chest" (Fluch der Karibik2) kann man alle Extras wie Trailer, Bilder von Film und Dreh und ein kurzes Stück des Soundtracks in Google Earth suchen. Das Overlay gibt es auf der Teaserseite (Flash)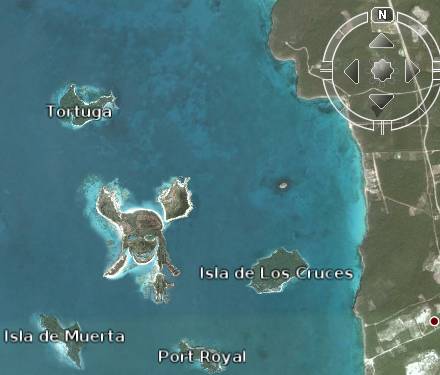 Manche Blogger wittern bereits den Ausverkauf des Kartenmaterials von Google Earth, bei näherer Betrachtung des Archivs stellt sich jedoch heraus, dass die Bilder von der Insel lokal über die Weltkarte gelegt werden. Einfach das .KMZ entzippen, und schon kann man die Inseln sauber in einem Unterordner finden. XML ist doch was Schönes.
Ob Disney letzendlich für den Overlay zahlt, ist eine andere Diskussion. Die Inseln fügen sich jedenfalls sauber in den Ozean ein. Technisch gesehen ist es einfach eine gelungene Demo, was mit dem Spielzeug alles möglich ist.
Solange der User selbst entscheiden kann, was er einblendet und das Overlay sauber dokumentiert ist, sehe ich kein Problem und keine Verzerrung der Realität. Immerhin braucht man diesmal keinen Google Account und es werden auch keine persönlichen Daten erhoben und ausgewertet.
Update:
Die Trackbacks waren leider erst falsch gesetzt, bis zur Korrektur hat sich die technische Realisation auch herumgesprochen.