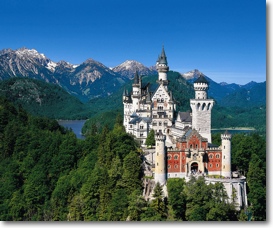 Wie Spiegel online berichtet, macht Edmund Stoiber die "New 7 Wonders of the World" Kampagne publik und möchte natürlich eines der neuen Weltwunder in Bayern beheimatet wissen.
Anscheinend zeigt der Artikel schon erste Erfolge, die Seite ist nur schwer zu erreichen.
Insgesamt stehen 20 Vorschläge zur öffentlichen Wahl.
Akropolis in Athen
Alhambra in Granada
Chinesische Mauer
Eiffelturm in Paris
Erlöser-Statue Christi in Rio de Janeiro
Freiheitsstatue in New York
Hagia Sophia in Istanbul
Inka-Ruinenstadt Machu Piccu in Peru
Kiyomizu-Tempel in Kyoto
Kolosseum in Rom
Kreml in Moskau
Oasen-Stadt Timbuktu in Mali
Oper von Sydney
Region Angkor in Kambodscha
Ruinenstätte Chichen Itza auf Yucatan in Mexiko
Schloss Neuschwanstein in Bayern
Statuen der Osterinseln in Chile
Steinstadt Petra in Jordanien
Stonehenge im britischen Amesbury
Taj-Mahal-Mausoleum im indischen Agra
Eine meiner sieben Stimmen ging an den Freistaat.